What is Palliative Care? Myths and Truths
The son of a palliative care patient and physician with LifePath Hospice provide insight into palliative care while dispelling myths associated with it.
posted on November 22, 2022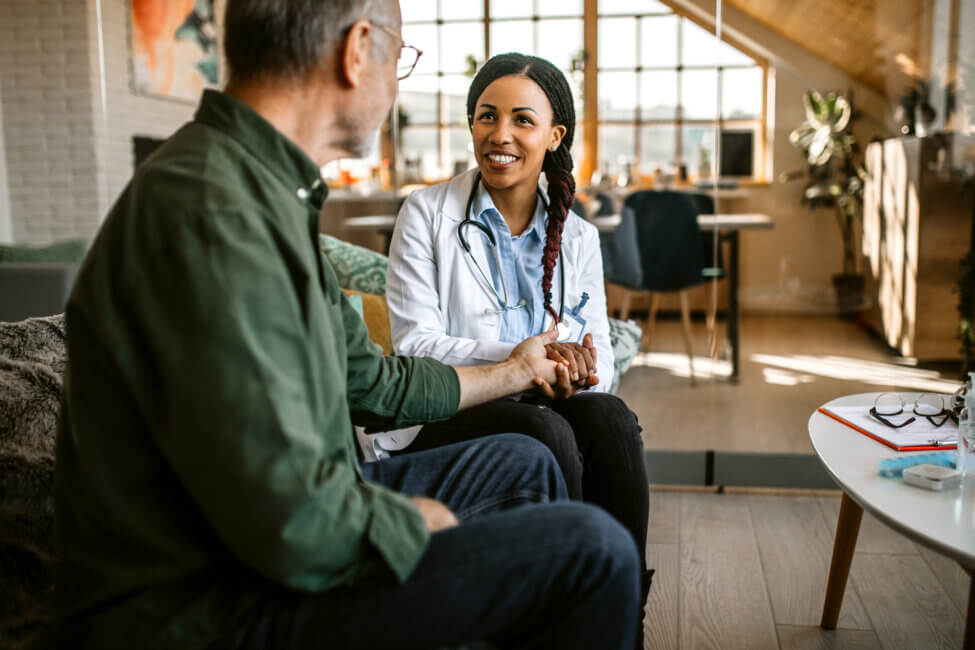 What is palliative care? There are many misconceptions people have when answering that questions. According to the World Health Organization, 56.8 million people worldwide need palliative care every year. Despite the need, one study showed 60 percent of Americans held at least one misperception relating to palliative care. Some believed it is only meant for patients who are imminently dying. Others believe it means an end to all curative treatment. And many simply believed it's the same as hospice care. They are all wrong. So, what are the facts? A physician with LifePath Hospice and a Care Management Director for Orlando Health help dispel some of the most common myths.
Myth: Palliative Care is Only for People Who are Dying
Simply put, palliative care is not only for people who are dying soon. Yes, people who have chronic and terminal illnesses can benefit from palliative care, but the truth is, it can help many kinds of patients.
"It's not only for people who are at the end of their lives," said Dr. Seon Lee, staff physician with LifePath Hospice. "It can help all kinds of patients manage their symptoms, identify goals related to their care, and help make plans for the future."
In addition to treating hospice patients, Dr. Lee treats patients involved with Chapters Health System's pediatric palliative program.
For those patients and families,  it's more than just symptom management. It's a support system, that provides you the care you need so you can live your best possible life. For the Clacines family, it made all the difference for their son Luke. Doctors diagnosed him with Vein of Galen, heart failure and pulmonary hypertension, among other complications at birth.
"We decided for Chapters Health Pediatric Palliative Care to also be involved in his care in order to help us navigate all of the specialists while still putting the main focus on the big picture of Luke's plan of care and what was best for his long-term care," said his mother, Emily. ""Luke is now a thriving two-year-old, and we are so grateful to Chapters Health for their professional medical expertise and their unending compassion to support us."
Myth: It is the Same as Hospice. An End to Curative Treatment.
No. It is not the same as hospice and it does not mean an end to curative treatment. Palliative care is comfort care with or without curative intent. It is an added layer of support that can work alongside specialists. It is appropriate at any age and at any stage in a serious illness.
Ivan Alvarado Aponte is very familiar with the misconceptions. In addition to being a Care Management Director for Orlando Health, his mother, Maida Vasquez, sought palliative care through Cornerstone Hospice & Palliative Care, a Chapters Health affiliate.
"There is a big difference between palliative care and hospice," said Aponte. "It's a big misunderstanding. Palliative care can help you in many ways, including serving as a smooth transition to hospice. Everyone at Cornerstone has been wonderful, but big kudos to Dr. Collazo for his caring, big heart, and compassion. He has been a tremendous support to our family."
Myth: Palliative Care Only Treats Pain and They Will Just Prescribe Opioids
There are two misconceptions tied to this myth. First, Opioids are not inherently harmful in, unless the patient has a history of abuse. Two, palliative care treats the whole person. It can include medications and non-medications to treat pain.
"Palliative care improves quality of life by treating pain and managing symptoms," said Dr. Lee. "While opioids are an effective treatment method, not every symptom needs to be managed by medication."
There are complimentary therapies that can help manage symptoms such as pain, nausea, shortness of breath and fatigue. Patients and their families can also find emotional support.
Myth: It Hastens Death
In my opinion, this is the most egregious misconception of them all. The goal is never to hasten a patient's death, ever. The care team wants what is best for all their patients and they strive to find a realistic balance with the patient's goals.
"It plays an important role in enhancing a patient's quality of life by improving their ability to achieve personal goals such as symptom control and social support," said Dr. Lee.
Yes, palliative care can help many patients with terminal illnesses. However, not every patient receiving palliative care is imminently passing away, so why would the care team want to exacerbate their chronic condition and hasten a patient's decline? Again, the goal is help achieve what patient wants out of life and manage symptoms.
Myth: I Won't Get to See My Regular Doctor
"You would be able to see your primary physician," said Dr. Lee. "The team is an extra layer of support and works in partnership with your primary physician."
Palliative care providers are specially trained consultants that work with other providers to assist in the management of symptoms and quality of life. They do not replace your regular doctors.
Is palliative care right for you?
Ultimately, if you're experiencing pain, stress and other symptoms related to a serious disease, it can likely be of benefit. Serious illness can include but isn't limited to cancer, heart disease, respiratory diseases, kidney failure, Alzheimer's, and multiple sclerosis. Again, some of the diseases can progress over many years, but palliative care can help patients at any stage of their disease process.
Chapters Health System is committed to serving the needs of its patients, families, caregivers, health providers, partners, and communities.
For more information, please call our helpful Chapters Health team at 1.866.204.8611 or Contact Us.