Supporting Veterans and First Responders with the Valor Program
A family member and former firefighter discuss the merits of the Chapters Health Valor Program and how it can help Veterans, First Responders and their families face the challenges of a life-limiting illness.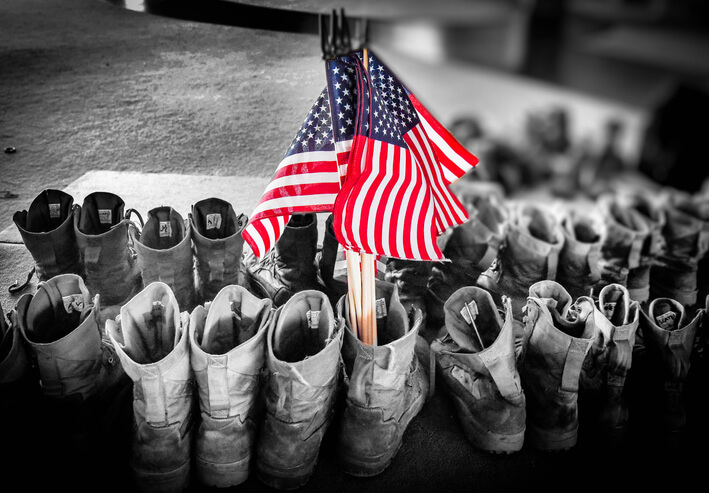 May is a special time for supporting Veterans and First Responders. It is National Military Appreciation Month, with Memorial Day serving as a special time to honor and those who gave their lives while serving the country. The Senate formally recognized the national month of observance with a resolution passed in 1999. There are also observances for First Responders in National EMS Week, National Police Week and International Firefighters Day. There are many organizations in Florida supporting Veterans, First Responders and families during this special time. The Chapters Health Valor Program is one of those organizations.
Supporting Veterans and First Responders with Valor Pinnings
Any service, big or small, is worthy of recognition and respect. The Chapters Health Valor Program honors this service through Valor Pinnings, among other ceremonies. The program provides support to Veterans and First Responders with certificates, pins, and commemorative coins acknowledging the service and commitment they gave to their country and communities. The program honored approximately 55 veterans and military family members during a pinning ceremony at a retirement community in Tampa last year.
Telling Their Stories
For Chief Master Sergeant David Bryant, his service carried a special significance. David was a patient with LifePath Hospice, a Chapters Health affiliate. He was among the first African Americans to reach the highest non-commissioned rank in the U.S. Air Force. He served in the Army Air Corps during WWII and the Korean War, eventually rising to the rank of Master Sergeant in Command and earning the respect of his many airmen. Moreover, David accomplished all of it in the heat of the civil rights movement. David passed away this year at his home in Tampa at the age of 97. It was a privilege to be welcomed into his home last year for his 97th birthday. During that visit, his daughter, son-in-law and fellow airman, Lieutenant Col. Odell Smith (ret.) reflected on his years of service and love for his family.
"I joined the air force when I was 17 years old, straight out of high school," said Smith. "People would ask me after I became an officer, 'who did I emulate most?' Who did I want to be like?' I told them; a sergeant named David A. Bryant."
During the birthday celebration, he said a few words to his guests.
"I appreciate you all being here," said David. "I know all the people here are good people.
David earned an honor pin, certificate and other commendations through the Valor Program for his service. To his daughter, Reanata Hickman, recognition for her father's service reinforces her belief that you can "overcome anything and be all you can be."
"It was awesome," said Hickman. "It just makes me stronger."
What it Means to First Responders
Veterans are not the only ones proudly serving their country. There are more than 4.6 million First Responders in the country. Firefighters, emergency medical technicians (EMTs), police officers, sheriff's deputies and other personnel who respond to the worst-case scenarios in our communities. That service takes a toll. A toll Tony Bossio saw first-hand when he served as a firefighter for six years in LeClaire, Iowa.
"I was a first lieutenant and fire prevention officer," said Tony. "We ran about 400 to 500 calls per year. Many of the challenges for me were mental. You must be at your best on someone's worst day. Every day you must be calm in the face of danger. Whether it's the challenge of a vehicle accident or a house fire."
Many people are kept safe by the quick actions of First Responders. Unfortunately, however, they can't save everyone and sometimes those are the calls First Responders remember most. Afterwards, talking about those hard calls can be difficult. Sometimes it's easier when someone shares a similar experience, an opportunity afforded by Valor Cafes. Valor Cafes are a peer-to-peer events where Veterans and First Responders can meet, enjoy good company and build new friendships.
"Being able to talk about your experiences with others who have the same history is very important. It helps you heal"
Tony's desire to keep his community safe didn't end after his firefighting career. He now works in sales and project management for International Fire Protection Inc., a leader in fire protection and life safety solutions, which sponsored this year's Hospice Open Charity Golf Tournament, benefitting Chapters Health System patients and families.
For the Families
Sometimes, First Responders and Veterans make the ultimate sacrifice to keep us safe. For their families, an arduous journey of anger, sadness, grief and acceptance lies ahead. They don't have to embark on it alone. Chapters Health is determined to join them, making free bereavement resources available.
"I have always said the most powerful part of the job is being able to hold someone's hand when they just need a hand to hold," said Tony. "I believe that goes both ways. We just need someone to listen or someone to care for us as we have cared for them. We all have a very important role to play with our time on earth. Can you imagine what it could be like if we all just tried a little harder, cared a little more?"
Essentially, that is what the Chapters Health Valor Program wants to accomplish. Ask yourself, do you think this country could care a little more about our Veterans? What about our First Responders? Clearly, the volunteers and leaders of the Chapters Health Valor Program have already decided.
To learn more about how the Valor Program is supporting Veterans and First responders, call 855-533-0580 or email [email protected].
Chapters Health System is committed to serving the needs of its patients, families, caregivers, health providers, partners, and communities.
For more information, please call our helpful Chapters Health team at 1.866.204.8611 or Contact Us.