Hospice Nursing: The Lessons of an RN
On the final day of National Nurse's Week, learn about the challenges LifePath Hospice RN, Ellen Mandt faced throughout her career as a nurse.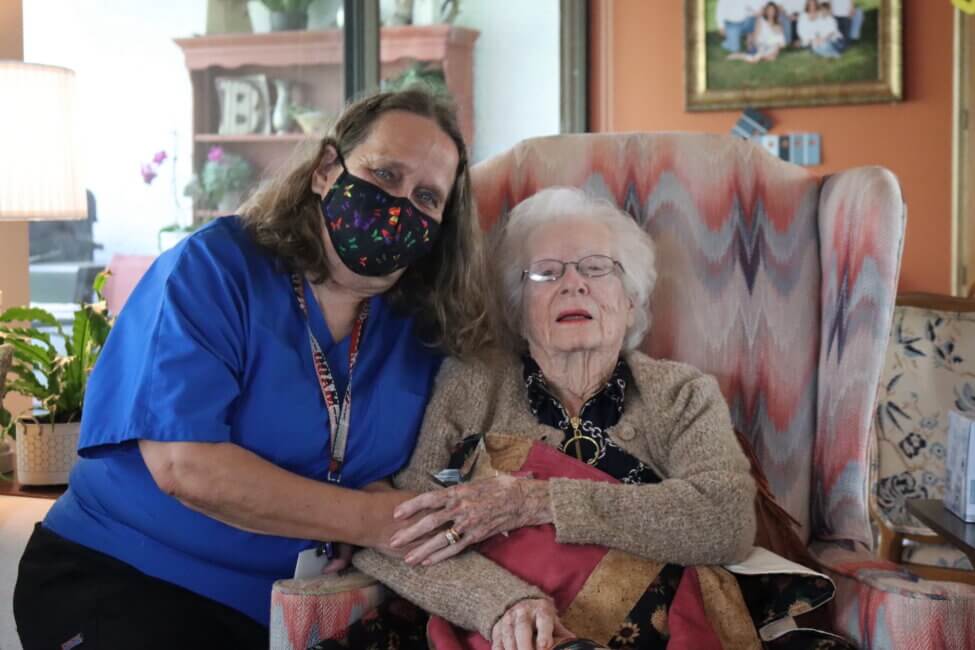 There are more than four-million registered nurses in the United States according to the American Nurses Association. They work tirelessly to make sure patients get the proper care. During the COVID-19 pandemic, many sacrificed time with their own families, and sometimes their lives to treat patients. Why do they do it? In hospice nursing, there is a passion to care for patients at the bedside.
For a hospice nurse, like Ellen Mandt, an RN with LifePath Hospice, their mission takes on a special significance. They are caring for not just the patient. The care, and inevitable passing of a hospice patient, also impacts the lives of the patient's loved ones. Ellen isn't just caring for a patient. She's providing care to their family and easing the pain of what they know is coming.
Today, on the birthday of Florence Nightingale and final day of National Nurses Week, Ellen explains what hospice nursing means to her and what she hopes the millions of nurses across the country take away from this special week of observance.
What inspired you to go into hospice nursing?
Ellen: My mother saved an autobiography that I wrote in second grade. In grade school, one of the first things we had to write was an autobiography. I wrote I wanted to be a nurse, a teacher and own a candy store on the corner. I thought it would be neat to own a candy store, but I always wanted to be a nurse. I can't think of a time when I didn't want that. I don't know why because my mother and father were not in the medical field. The closest thing I had was an aunt, who was no longer practicing.
Describe your journey into hospice nursing.
Ellen: I went to college and got a four-year bachelor's degree. I was in the [Navy] for about three years practicing different things, then lived in New York and went into what I really liked when I was in school, prenatal care. At that time, it was called postpartum care. They were just perfecting mother-baby care at the time so experienced nurses were instrumental in that type of care. I moved to the Clearwater area with my ex-husband, and I worked at Morton Plant Hospital on a PRN basis in their nursery. So, I went from start [prenatal care] to finish [hospice care] in my career. I worked at both ends of the spectrum.
Why did you ultimately choose hospice care?
Ellen: For some reason or another, I kind of took to patients who were dying. I was not afraid to work with them. My mother was put in a hospice care unit in Minnesota. The care she received from the nurses and the care my family received from the nurses made me realize this is what I want to do. I did a lot of praying and I think, in a sense, God directed me into hospice. When I first came, I had no home health or hospice experience. The training staff was very patient with me. Nurses have so much more independence in hospice compared to working in the hospital. In the hospital, you need orders before treatment. In hospice, you have standing orders so you know what you can do and inform the practitioner after you performed it. I had great support all the way through that learning experience.
What was your greatest challenge?
Ellen: After I graduated, when I went into the Navy. I served in Philadelphia at a regional medical center there. I was thrown in and supposed to know so much. It was a steep learning curve. I think a lot of the challenge was the supervision. I worked the night shift. At that time, we did eight-hour shifts. I would oversee up to four floors with up to 75 patients. I would have several corpsmen assisting me and I would have to figure out how to supervise and get them to where they need to be. Corpsmen also couldn't pass medications, so I had to make sure all the medications they passed were there and approved. I learned so much. I probably learned more during my time in the service than practical learning in school.
What does it take to be a hospice nurse?
Ellen: Hospice is such a unique style of nursing. You must have a special heart for it and that's true for any kind of nursing job. You need that to ease the end of life not only for the patient, but a lot of the time, it means more for the family. You need it to show you truly care and understand that the patient is a person who is attached to many other people. Their death is going to affect them, so if there is something you can do to ease that, that's an accomplishment. That's what I hope I can do for all my patients. Sometimes it's a little stressful. I have some long days, but at the end of the day, I want to feel like I made a difference.
What would be your advice to aspiring nurses who are struggling to decide what style of nursing they like?
Ellen: Hospitals are a good place to start. They have different areas where you can work in. You can decide whether you like cardiac, the emergency room, surgical or women's health. Just experiment. Don't glue yourself to the very first thing you get into unless you truly love it. You can go in so many different directions. If you like high-energy and pressure, go into the emergency room or ICU. You just have to search and do a few different jobs before you realize 'this is it, this is what I like.'
What would you say to nursing students who may have misconceptions about going into nursing?
Ellen: Know that you're probably not going to accomplish everything on day one and don't feel bad if you don't. Nursing is a learning experience. I am still learning different things whether it's different techniques or tools on the computer. You may have been the star student in your class, but coming into the real world, you must find yourself. Do what you can, ask for help and give the help. You may be the expert in one area, but someone else isn't. And sometimes you may be weak in one area, but someone else is strong. It really helps when you have teammates to work off and learn from. Don't try to do it all yourself.
On the final day of National Nurse's Week, what do you hope your fellow nurses take away from this week?
Ellen: Rely on your teammates and let them rely on you. If you have a teammate that is struggling or seems down, go, and say, 'You're doing great' or 'What can I do to help you?' Realize that you may need help yourself and don't be afraid to ask for it. Most supervisors will respond when they realize you need help. That's what I've encountered with LifePath Hospice. The management has been great. Sometimes it's a simple screaming into your phone, just voice your problems, and they understand that. I've been lucky to have managers that provide that support.
Chapters Health System is committed to serving the needs of its patients, families, caregivers, health providers, partners and communities.
For more information, please call our helpful Chapters Health team at 1.866.204.8611 or Contact Us.