Ongoing Adult Grief Support Group – Polk, Highlands & Hardee Counties
Tuesday, December 14, 2021 | 10:30 AM to 12:00 PM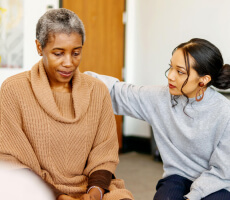 After losing a loved one, some survivors may find that the pain associated with that loss doesn't always lessen with time. Good Shepherd Hospice's grief support groups provide a safe place to express feelings, share experiences, learn about grief and move ahead in the grief process. Good Shepherd Hospice provides various support groups throughout the year. We hope you will take advantage of the group that best suits your needs and circumstances.
You don't have to be the loved one of a Good Shepherd Hospice patient to participate in these support groups. Grief support groups offer support and education by helping survivors cope with their emotions, new roles in life and plans for the future.
Pre-registration is required. Please submit the form below or contact the Good Shepherd Hospice Bereavement Department at 863.968.1739 or 1.800.464.3994 to pre-register. A Good Shepherd Hospice representative will contact you to confirm registration and provide you with the information you need to join the support group.
Learn more about grief services.
Event Categories:
Location
Lakeland Hospice House